September 15 (mini) Update
Full Screen Takeoffs Are Here!
We now automatically hide the spreadsheet window when you launch a measurement
Tip: just press the ENTER or ESCAPE key to complete an active measurement (to make the spreadsheet re-appear)
Try it out and let us know what you think!
Add Sales Tax to Materials by Default
When items are added to the project from the cost database, we now add sales tax to materials by default
You can still toggle "With Tax" OFF if you choose
To speed things up even more, we also now default "
Use this Item Name
" = YES when you haven't named the item yet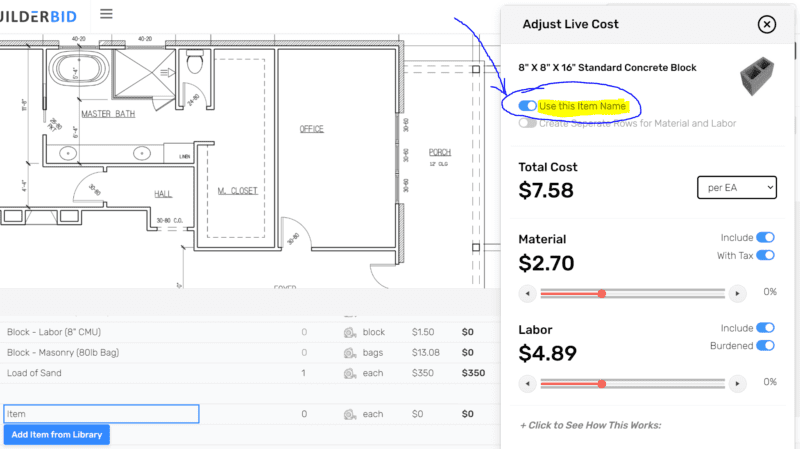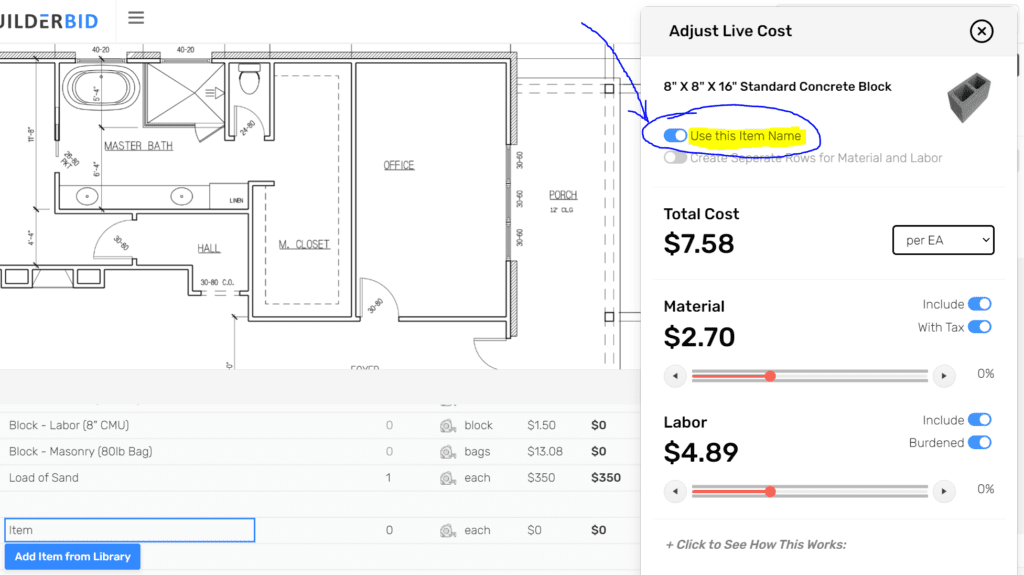 September 1 Release – New Features!
Pricing Assistant v2
BuilderBid's Pricing Assistant gets a major upgrade 🙌
The revamped catalog layout makes it easier to find the right items
600k+ new supplier items in your area have been added from suppliers like Ferguson's / Build.com, LL Flooring, etc… (and more coming soon)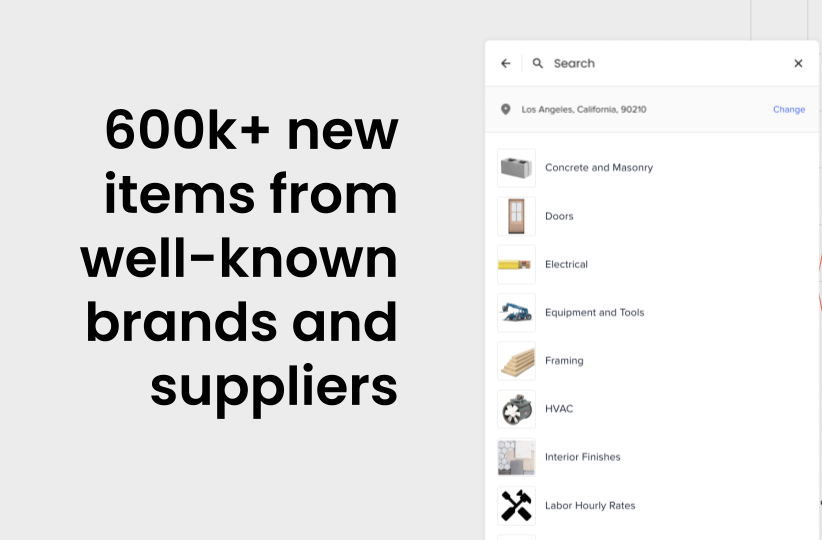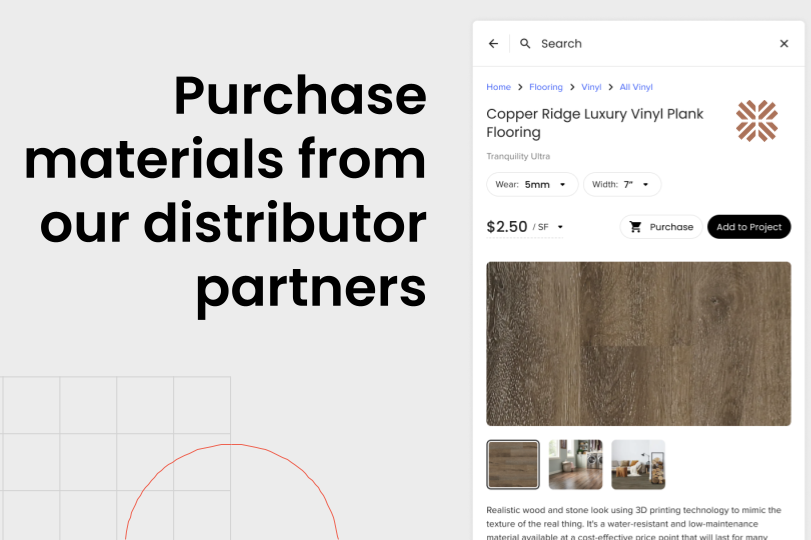 Copy Estimate from Another Project
Estimating a project that's similar to one you've already completed?
No need to start from scratch
Now you can use the "Copy from Project" feature to import an estimate spreadsheet from another project
Pre-Built Assemblies (v1)
We are working to build out a library of pre-built assemblies for every trade
You will be able to search the BuilderBid library for assemblies that you can pull right into your template or project estimate
Soon, these assemblies will be setup so they are takeoff-ready:
–measurements setup
–linked to live costs from the pricing database (when possible)
Note: this feature is still in Beta and will be enhanced in the coming months
We plan to add many more assemblies and implement an easier, more visual way to search
Bug Fixes + 39 Usability Improvements
We fixed the spreadsheet scrolling bug
We addressed an issue where the scale could not be automatically identified on certain PDF files
Plus we made 39 other minor improvements or bug fixes throughout the app
So you can enjoy a more seamless estimating experience
For example, now perform certain actions with fewer clicks:
Changes you make to measurement properties & Waste/Markup/Taxes now update immediately (no need to click Save)
Set Defaults for Global Markup & Taxes
Global Markup can be used when you want to markup most line items and hide the markup amount within the unit cost.
We added two options in the Project Settings window, so you can set default values for the global markup, tax rate, and tax settings. This will automatically default future projects to those settings.
Have questions about the best way to apply your profit & overhead the way you're used to? Reach out to our team for assistance.
Full Screen View on Preview/Proposal Tabs
The UI now automatically adjusts to display the Preview & Proposal tabs in full screen view
New Report to Summarize Costs by Type
If you like to classify your line items by Type, then you can now use this new Summary-level report
which will break out the total cost by Type
Tip: select "Hide if Total = $0" to hide any columns/rows that do not apply
Added More Scale Options
We added the engineering scales to our scale tool (1″ = X')
Found a scale we don't have in the list? Let us know!
Coming Soon: Add Users to Your Team
We are almost finished with a new feature allowing you to add additional users to your Company Account
So you will no longer need to share the same login 😆🤗
This feature will be included in the next release, stay tuned!
July 10 Release – New Features!
Pricing Assistant
BuilderBid's new Pricing Assistant is live 🙌👷
We are making it even easier to predict your costs and stay ahead of rising prices
Now you can look up labor & material prices for your area (on more than 25,000 items)
Link an existing line item to a live cost in our catalog
OR search for new items to pull into your estimate template
Easily adjust the live cost up/down if needed
We'll keep an eye out for prices increases and automatically adjust your template cost when we hear about a change
Improved Spreadsheet Performance

The spreadsheet feature just got a big upgrade
Now we can smoothly handle larger spreadsheets
With the next release, we're planning additional improvements to the speed and responsiveness of the spreadsheet tool
((soon we'll be able to handle 1000+ line items with ease))
Spreadsheet Groups
We made it so you have the option to organize line items into groups.
Groups can be collapsed/expanded before export, so they can be used to shorten the estimate or just to hide extra detail you don't want to show the customer.
Customize What the Client Sees
Now you have more flexibility to customize how the budget looks for your client
The "Configure the View" menu allows you to customize what rows/columns are visible, before you export
See $/SF, Markup, Margin, & More
We've added an analytics section to the top of the Preview tab to summarize key metrics for your project, including:
-Builder Cost vs Total Price
-Markup vs Margin
-$/SF vs $/USF
In the future, we'll be adding more visuals here (ex: pie chart summary)